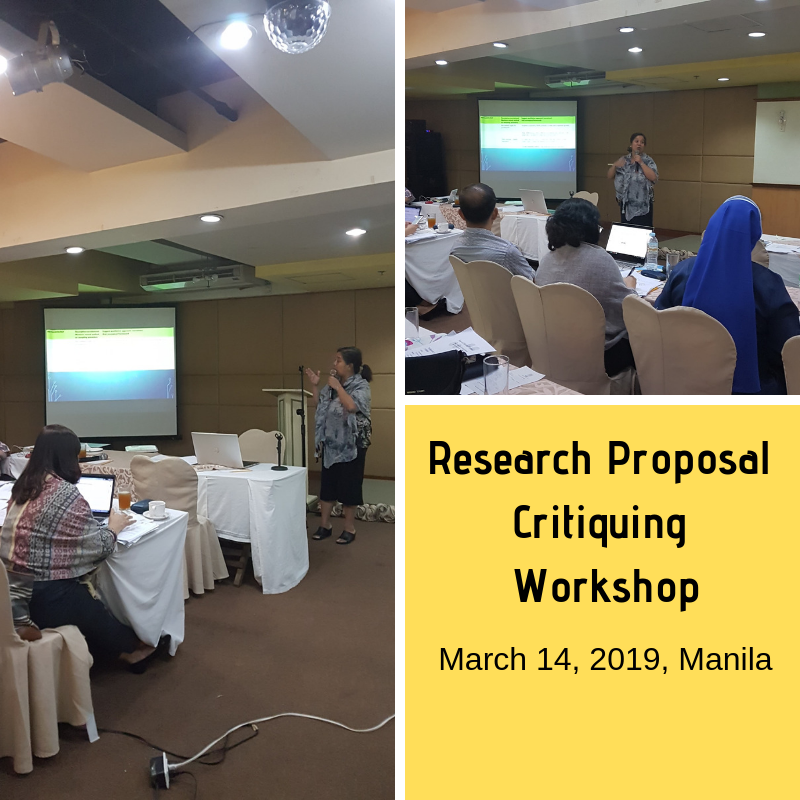 As a follow-up activity of "Training of Trainers for Basic Research Methods (TOT-BRM)" conducted last December 4-6, 2018, the PNHRS Capacity Building Committee with the Symmetric Research Consultancy, Co. organized a "Research Proposal Critiquing Workshop" last March 14, 2019 at Manila Manor Hotel.
After ensuring the alignment in delivering trainings and lectures using the developed standardized manual in TOT-BRM, the critiquing workshop aims to enhance the capacity of all the Region's respective technical reviewers in critiquing research proposals and writing a report. The workshop involved lecture, group work in critiquing research proposals and presentation of the group outputs. Time was also allotted to discuss and address the different challenges encountered by all the consortia. The Regional Health Research and Development Consortium XI (RHRDC XI) was represented by its Research and Development Chair, Dr. Maria Elinore Concha.
This activity is part of the initiatives in harmonizing and strengthening the review capacity of all the Regions to ensure efficiency of the review process and quality of the proposals endorsed to the Philippine Council for Health Research and Development (PCHRD) for funding. The consortium's Technical Review Board (TRB) is currently undergoing changes with regards to its operations to effectively adopt the TRB Manual.